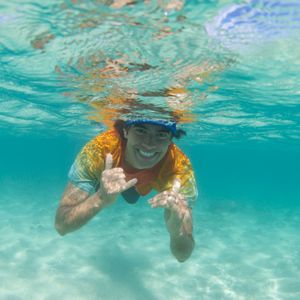 Bio
Surf. Music. Travel.
Press Releases on Kevin Miso
Any music lover who lives near the ocean between San Diego and Santa Barbara has undoubtedly heard Long Beach, CA, native Kevin Miso play.  With his boardshorts and surf cap, an acoustic guitar slung over his shoulders, the singer-songwriter's breezy, reggae-inflected music is the perfect accompaniment to a chilled Corona, songs like "Rise Up" and "Harder" expressing the lure of the SoCal lifestyle in all its seductive glory.
(Roy Traken, Billboard)
What do music legend James William Guercio, music publisher Don Williams and bass genius/producer Kenny Passarelli have in common? They're all excited about launching a new singer/songwriter, Kevin Miso.
(Dawn Lee Wakefield, The Examiner)
When Kevin Miso came onstage and owned his set during the Doheny Surf Festival in August, his smooth, soulful, acoustic tunes carried bright notes that made it impossible to stand still. Given the glut of rasta-ish acoustic acts in OC, finding one that actually leaves you feeling high from the songs alone is rare. Probably because unlike a lot of his influences, the songs from this Long Beach family man steer clear of the weed-toking, partying lifestyle of some of his musical influences. The results successfully avoid the stoner clichés ascribed to whiteboy reggae. 
(Jackie Connor, OC Weekly)
Onstage, he breathes life into simplistic reggae jams by building beats and compositions on the spot with a loop pedal that creates a striking piecemeal sound that builds slowly. 
The first time I saw Kevin Miso, I was hiding behind a rack of board shorts in a Quicksilver shop.  Kevin's sunny California sound is one that strikes a chord here at home, and is sought after in other, less sunny states,
(Chantel Donnan, Music in Press) 
The Quiksilver shop was crammed with tan, beautiful people; I was meekly hiding behind a rack of clothes, listening to the music. It was precisely what I expected to hear so close to the ocean. There were sweet lyrics, warm, sunny tones, and a laid back vibe that simply makes you feel good. However, it wasn't long until I heard something that truly surprised me.
"So, what cover can you do that's, like… the furthest away from your genre?"
An odd request to be sure, but singer-songwriter Kevin Miso seemed completely unfazed; he strummed his guitar after only a moment's hesitation, treating the employees and patrons to a fun (and surprisingly good) acoustic cover of Lil Wayne's "Mrs. Officer."
(OC Music Magazine)
Summer may not officially arrive for a few more days, but don't tell that to the 500 or so family members, friends and fans of singer-songwriter Donavon Frankenreiter who packed into the Coach House Friday night.  Opening was singer-songwriter Kevin Miso, who shares a similar love of the Jack Johnson-esque surf/folk/rock sound. His impressive ability to play a variety of instruments, often during the same song, came in the service of potent originals such as "Home" and "Smile." The highlight was "Finally," an R&B ballad featuring wonderful vocals and piano play.
(Robert Kinsler, Orange County Register)
The EP contains the sound of an artist arriving. It's crisp and forthrightly poppy, with a little reggae sway here and there, but there's also something slyly coherent going on. Pascal once wrote that philosophy is man's attempt to be at home everywhere; Miso sounds like a man at home within his music.
Maybe a Corona ad of the soul; Miso's music hits a spot. It's an EP that marks a promising beginning. These are songs of abiding faith and love – not religious, and not necessarily romantic love, but of buoyancy, hope, and resilience. It's inherently sunny music, and that is no small trick.
Mark McDermott (Easy Reader, Hermosa Beach)
Kevin Miso's full-length debut double album "Compass" was released on December 21st, 2020. An impressive release of 21 songs available at local record stores and surf shops.  For more, visit www.KevinMiso.com